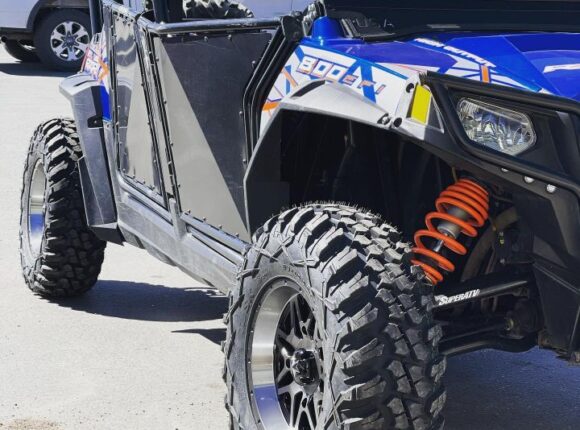 ATVs and UTVs
At Dan's Tire Service, we are happy to help you with your ATV or UTV tire needs. Often, the tires used by these types of vehicles are hard to find and overpriced. But, you will find that at Dan's, we not only can work on them, replace them, or repair them, but we can sell them to you for an excellent price. Don't get sucked into overpriced services. Come to Dan's Tire Service to get the best deals on ATV and UTV services.
ATV and UTV tires have unique specifications in size and tire bias. Tire bias means that the tire is designed for a specific terrain type. ATV and UTV tires can be intended for roads, deserts, rain and mud, snow, or rough off-road terrain. Hardcore ATV and UTV recreation seekers understand that the tires they mount on their vehicle should match the landscape they will visit.
ATV Shop
The next time you get ready to go four-wheeling, bring your ATVs into Dan's Tire Service for your ATV needs. We keep a large selection of quality ATV tires in stock that will fit whatever trip you plan on taking. We can provide quality mud, sand, off-road, or road tires for your ATVs. With our variety of sizes and tire biases, we are confident that we can meet your ATV tire needs.
We have talented staff and professionals who can help you with your ATV tires and other related services. Talk to us if your ATV is acting up, pulling, riding rough, or braking oddly. Our knowledgeable staff is happy to help you get back on the trails with your ATV.
UTV Service Shop
Those that have UTVs often use them for a large variety of purposes. Some may have a side by side they love to take off-roading or cruising on sand dunes. These recreational UTVs are a blast to take out and drive. Others may use UTV vehicles as work vehicles to move around large worksites or farms, or they may even use them as transport to hard-to-reach work areas. Emergency services often use UTVs as fire and rescue vehicles for tough terrain. No matter what you plan to use it for, we can help you maintain your UTV.
At Dan's Tire Service, we are happy to help with any of your UTV services. We can supply you with tires for the terrain you will be visiting and provide other services. Our professionals can also help with alignment, brakes, and suspension issues your UTV may encounter. If you have a UTV in the Draper area, then Dan's is the best place to come for your UTV services.